One of the gifts I receive every day is the opportunity to work with my clients and lift them up to better see, understand, and know who they really are so that they show up in the world comfortable in their own skin.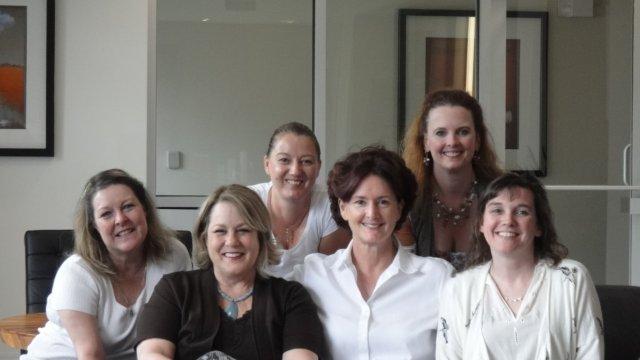 Brilliance Breakthrough and Branding
with Archetypes Workshop
October 8, 2011
(From left to right: Jennifer Flowers, Darla Powell Phillips,
Cecilia Engquist, Mary Kate Flanagan, Stacy Ryan, Vicki Manning)
 
You know.  Showing up and standing out.  Being in their brilliance.
So what happens next?  They begin to have more FUN.  They start kicking the dust up a bit.  They go into a let's get this party started mode.
Oh yeah.  Things are happening baby.
They are landing the career of a lifetime.
They are starting that business they have always wanted.
They have found "the one" and are having babies.
They are improving business practices, making more money having a lot more time.
They are traveling the world now that the (thank God) kids are grown.
They are jumping out of the box, into the fire of a whole new gig that really turns them on.  Whatever.
They are having a LOT more FUN.
And then, the people around them are starting to have more fun, too.  It's contagious.
And you know what that means…more people in the world having more fun!
They will be if I have anything to do with it!
It all starts with knowing your unique brilliance.
3 Steps to Fun + Special = ATTRACTIVE!
Here is a 3-step exercise you can do on your own to get your groove and brilliance on.
What part of your personality do you try to cover up, hide or disown?  Whatever personality trait (at least one or two) you possess that got you into trouble as a kid is the blind spot waiting to be discovered.  This is the one (or more) key component that needs to show up in your marketing and in your life!
Brainstorm a list of words and phrases that represent that personality trait.  Consider words like elegant, fun, or youthful.  Now, think Jack Sparrow here…get out of the box and swing from the masts or bird's nest or whatever Jack would swing from.  Brainstorm on!  Get some friends and collegues involved.
Cut loose, act up, get sassy and let your personality shine on in your next conversation, email, newsletter, web copy or flyer.  Take a big breath (or gulp) and go for it.
– Give yourself permission to come from that place within.
And, if you struggle with this just give me a ring and I will give you permission.
Why do I care so much?  Because we need more fun in the world for God's sake.  We need more happen-makers in the world.   We need to show up, stand in our brilliance and    be our power.
So dig deep.
Check out the blind spot.
Kick up some dust with those boots and those stilettos.
Let's get the party started!